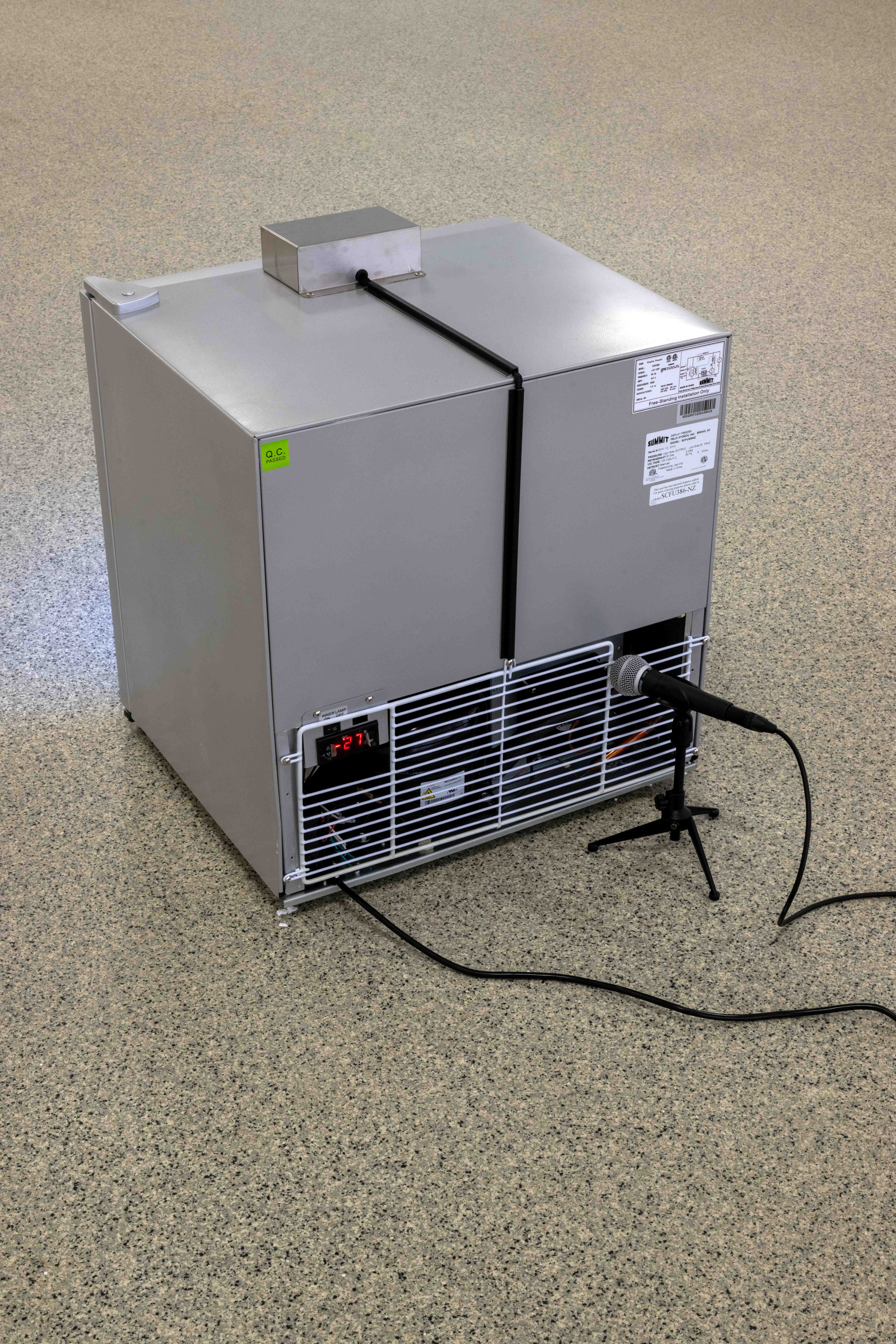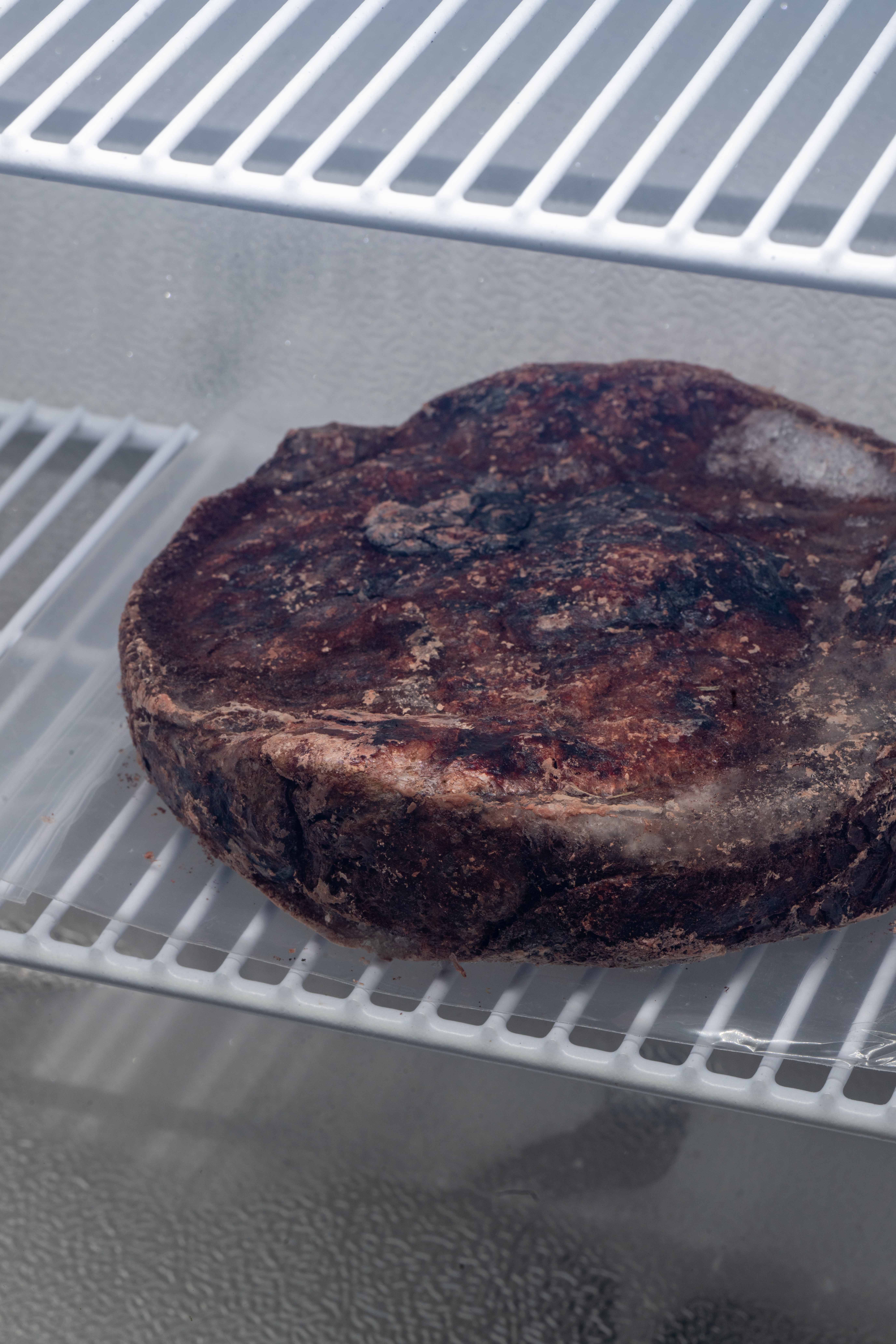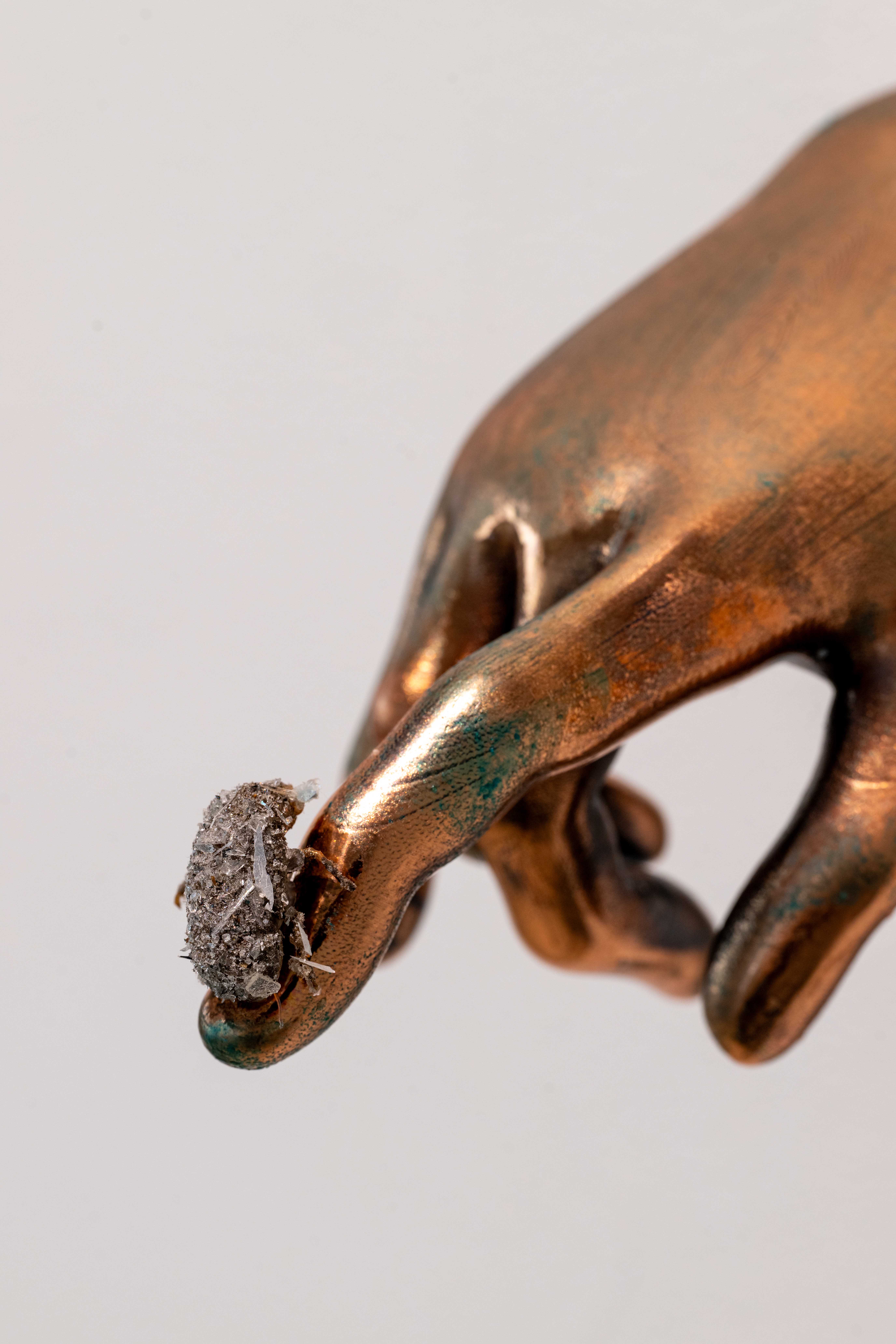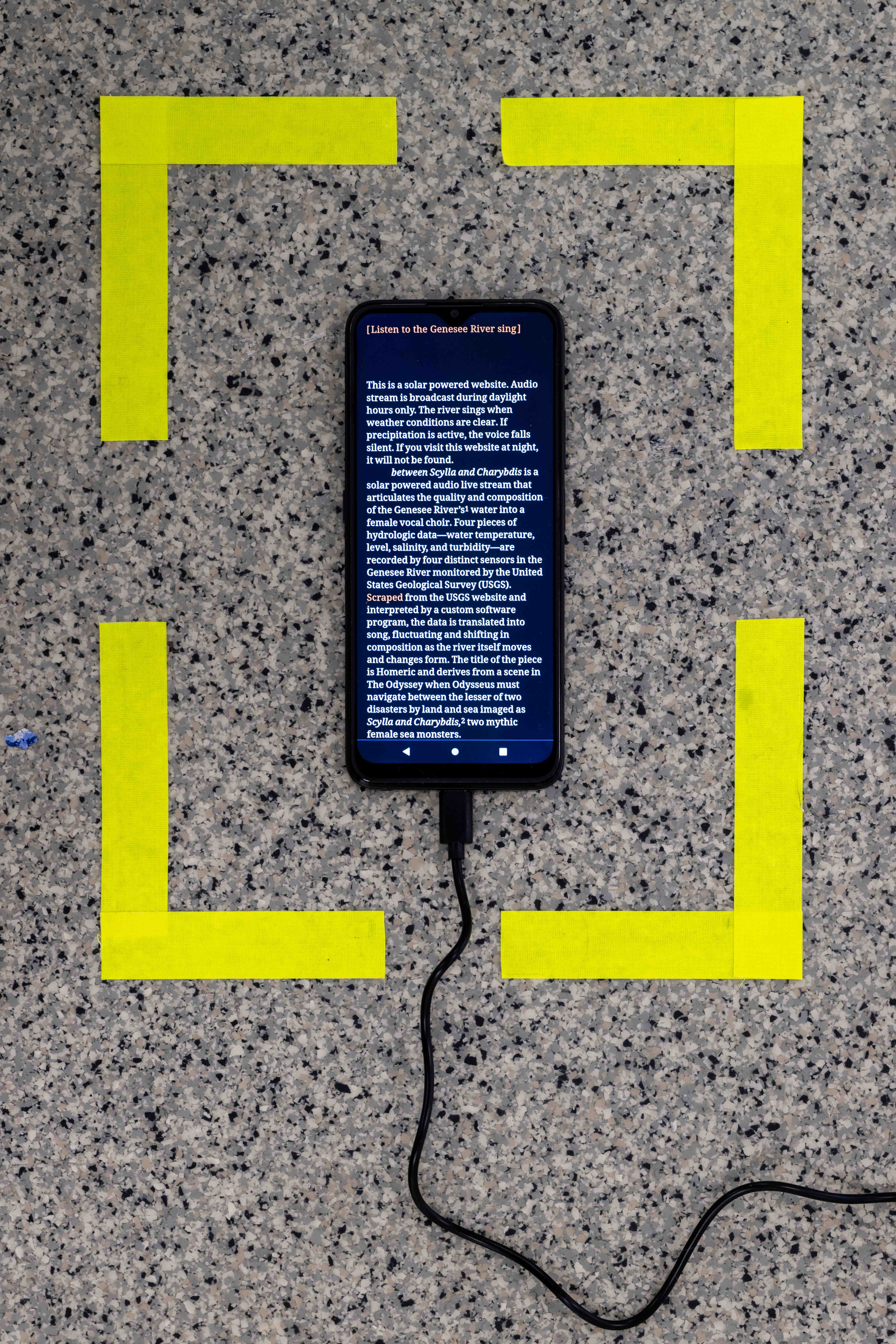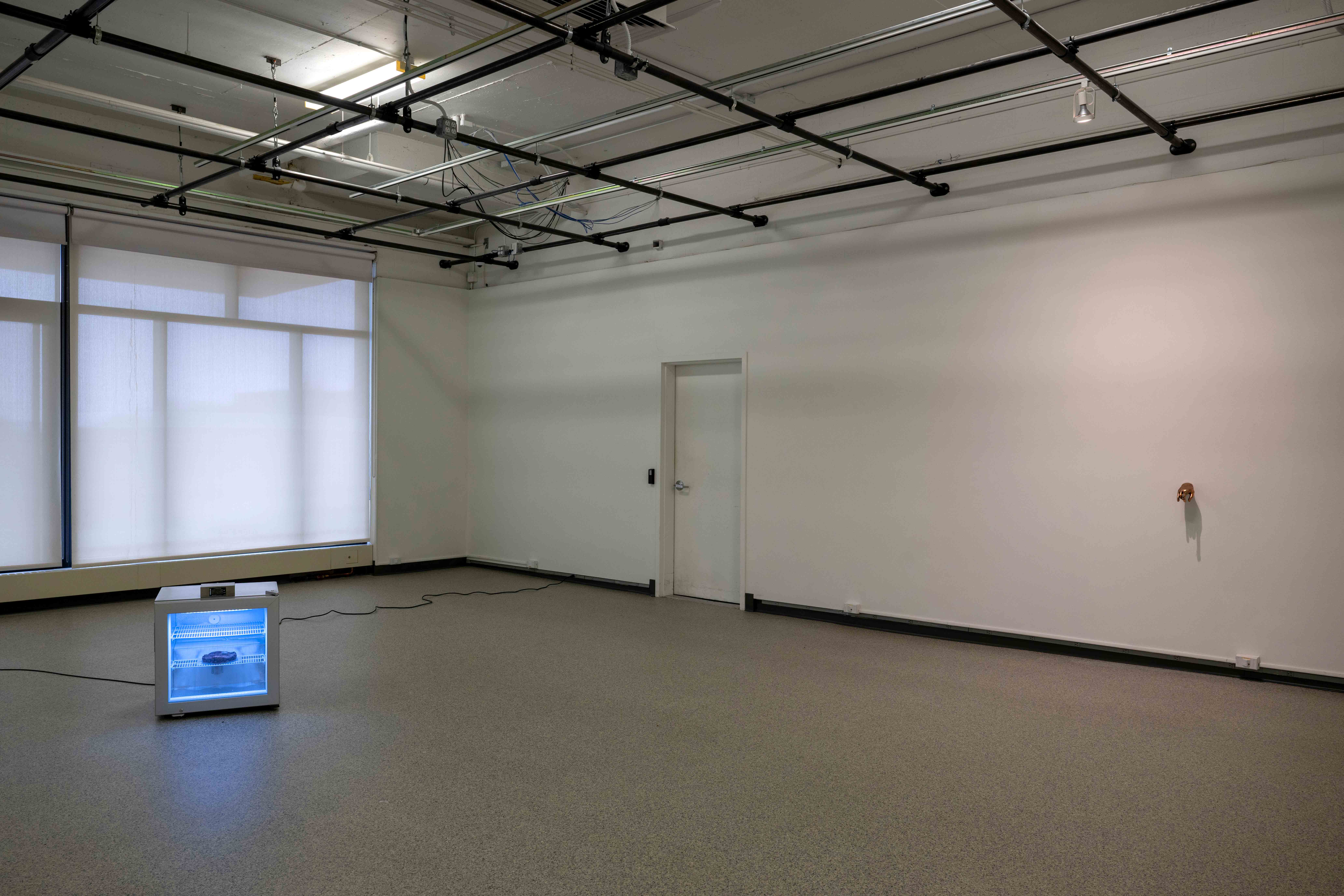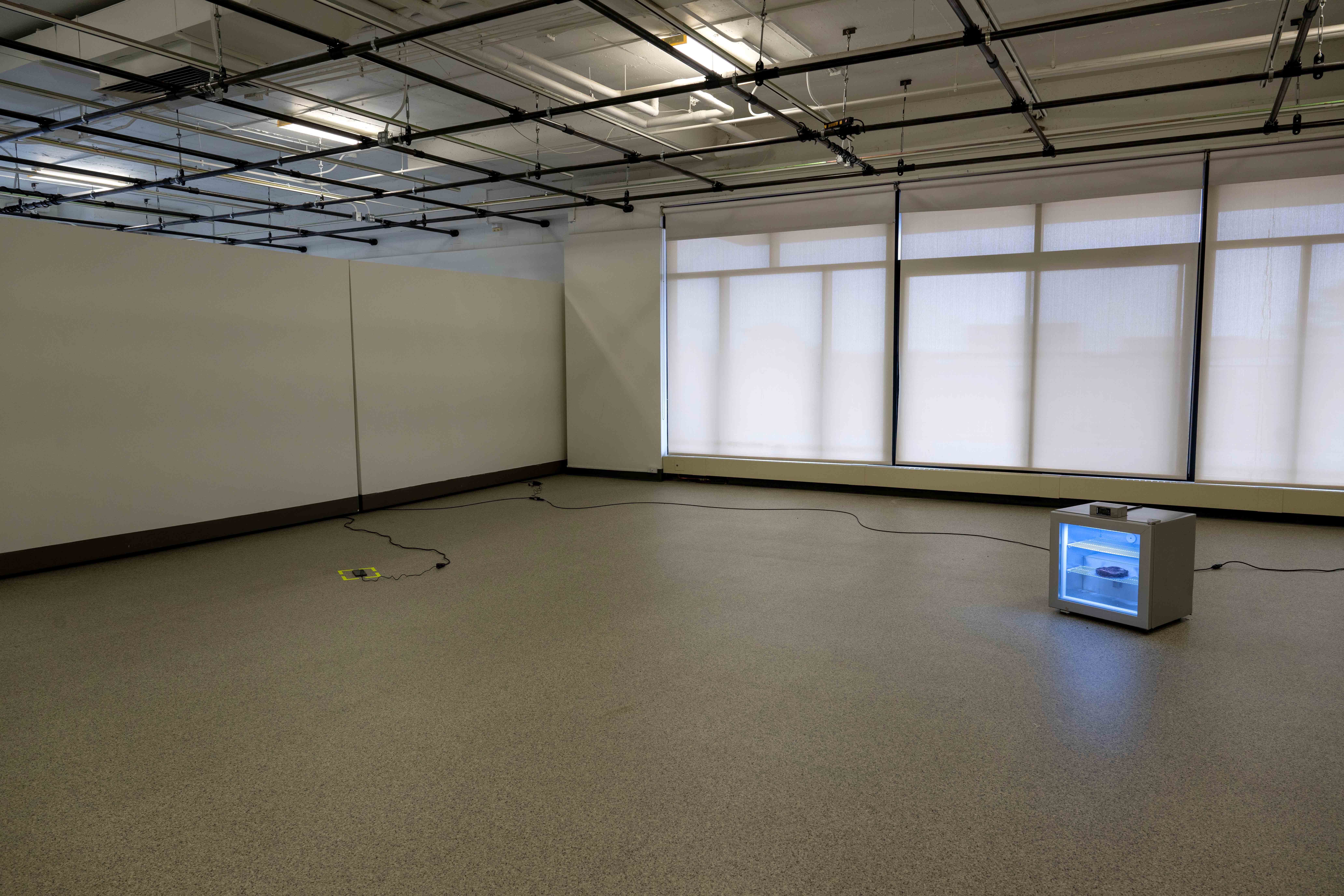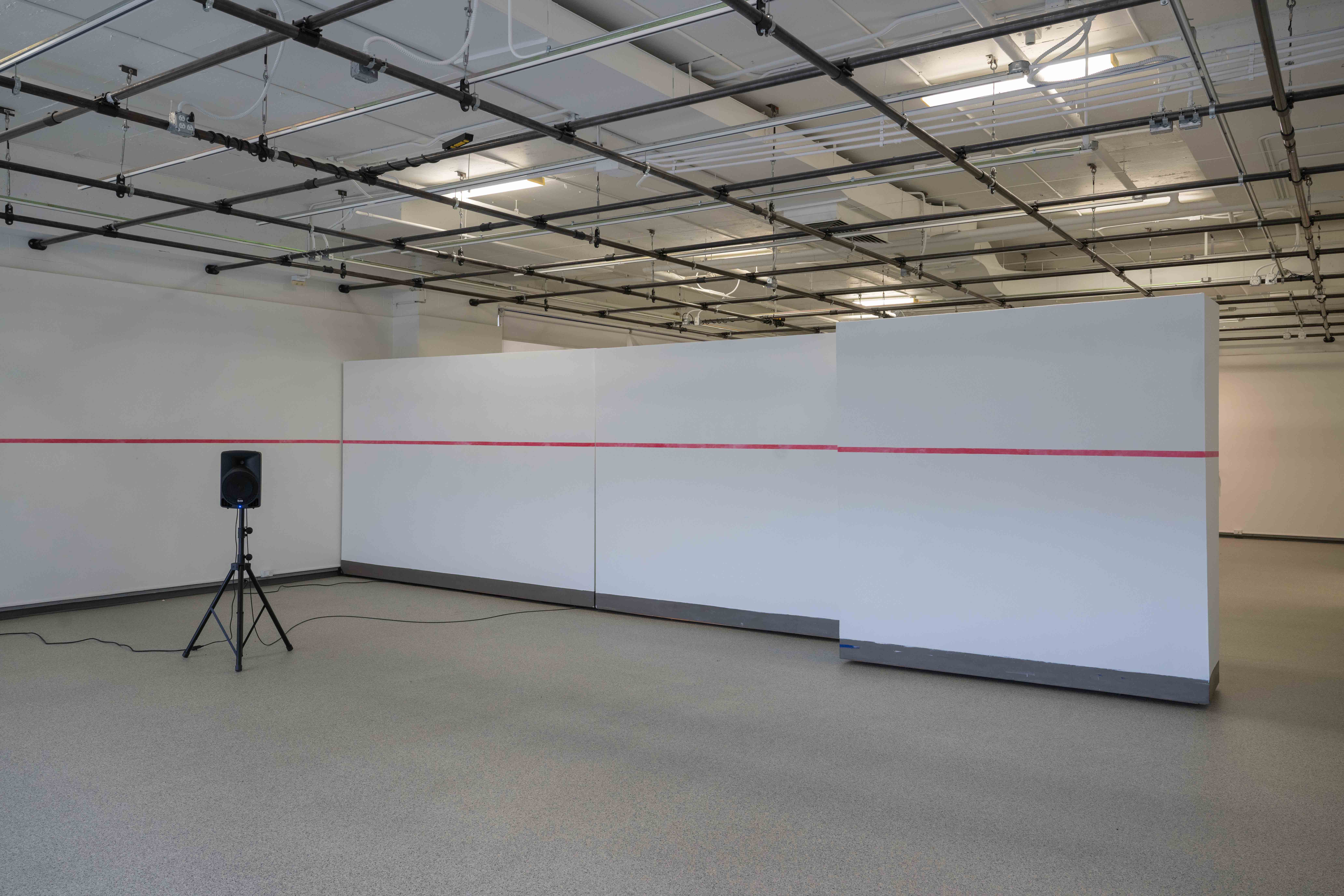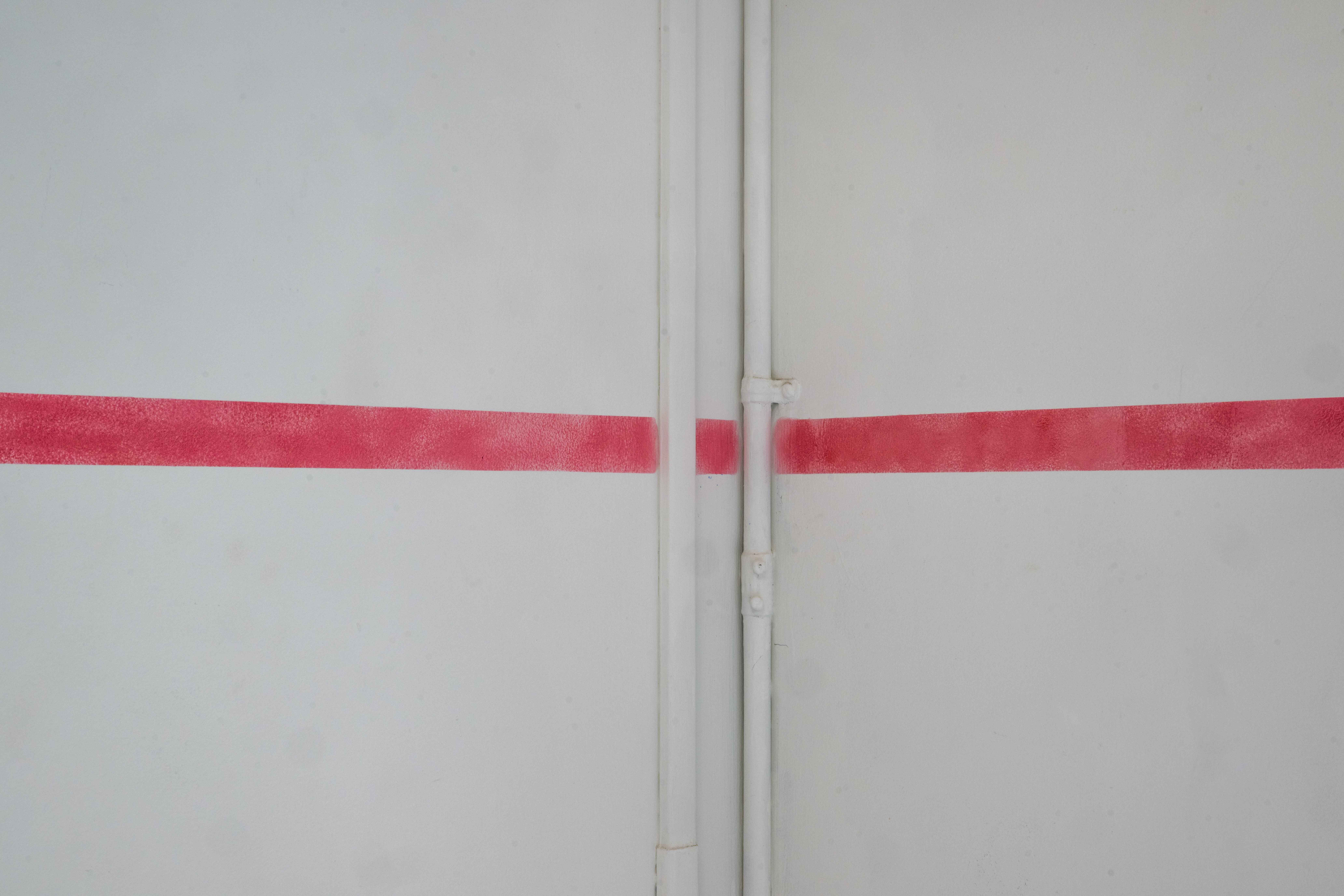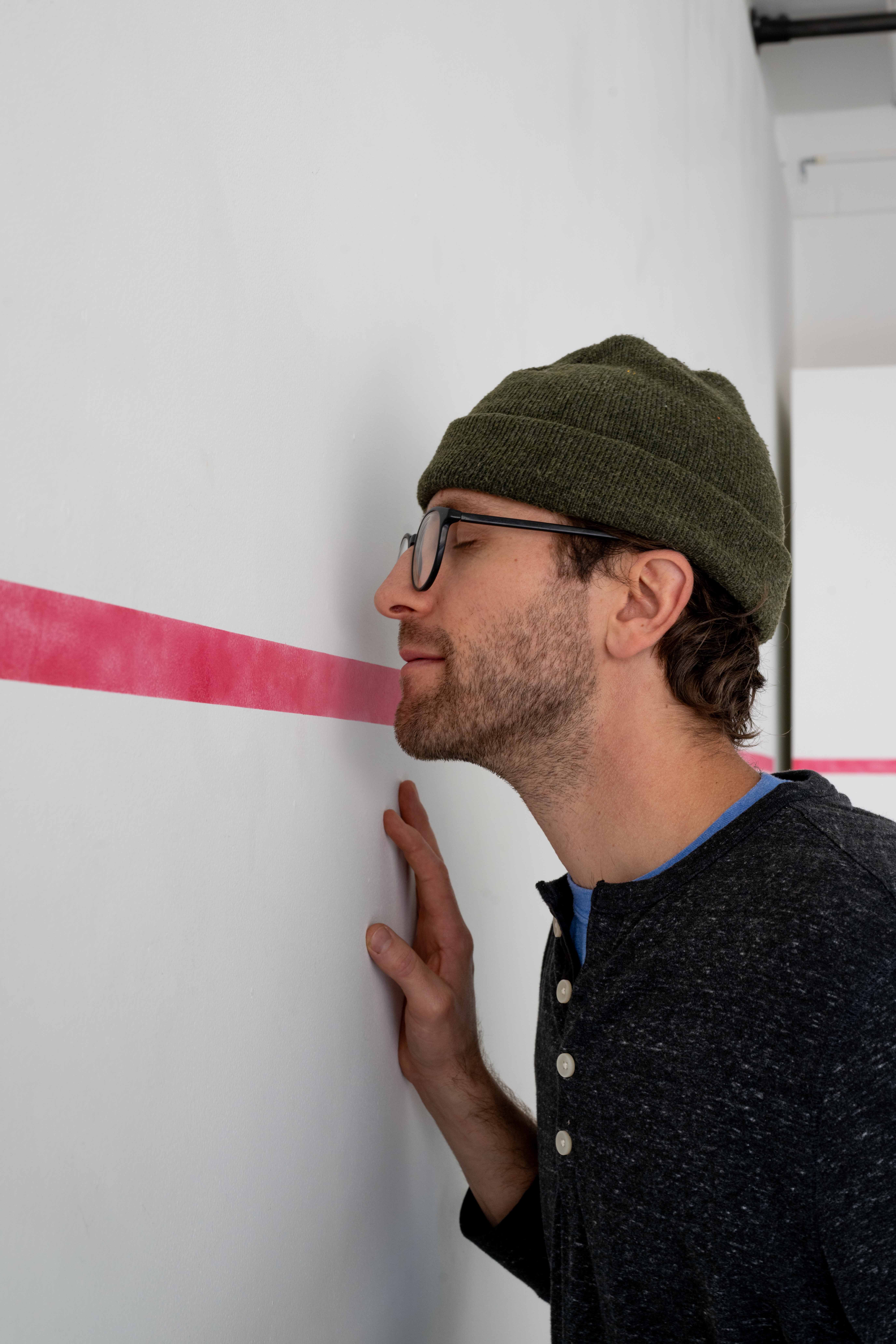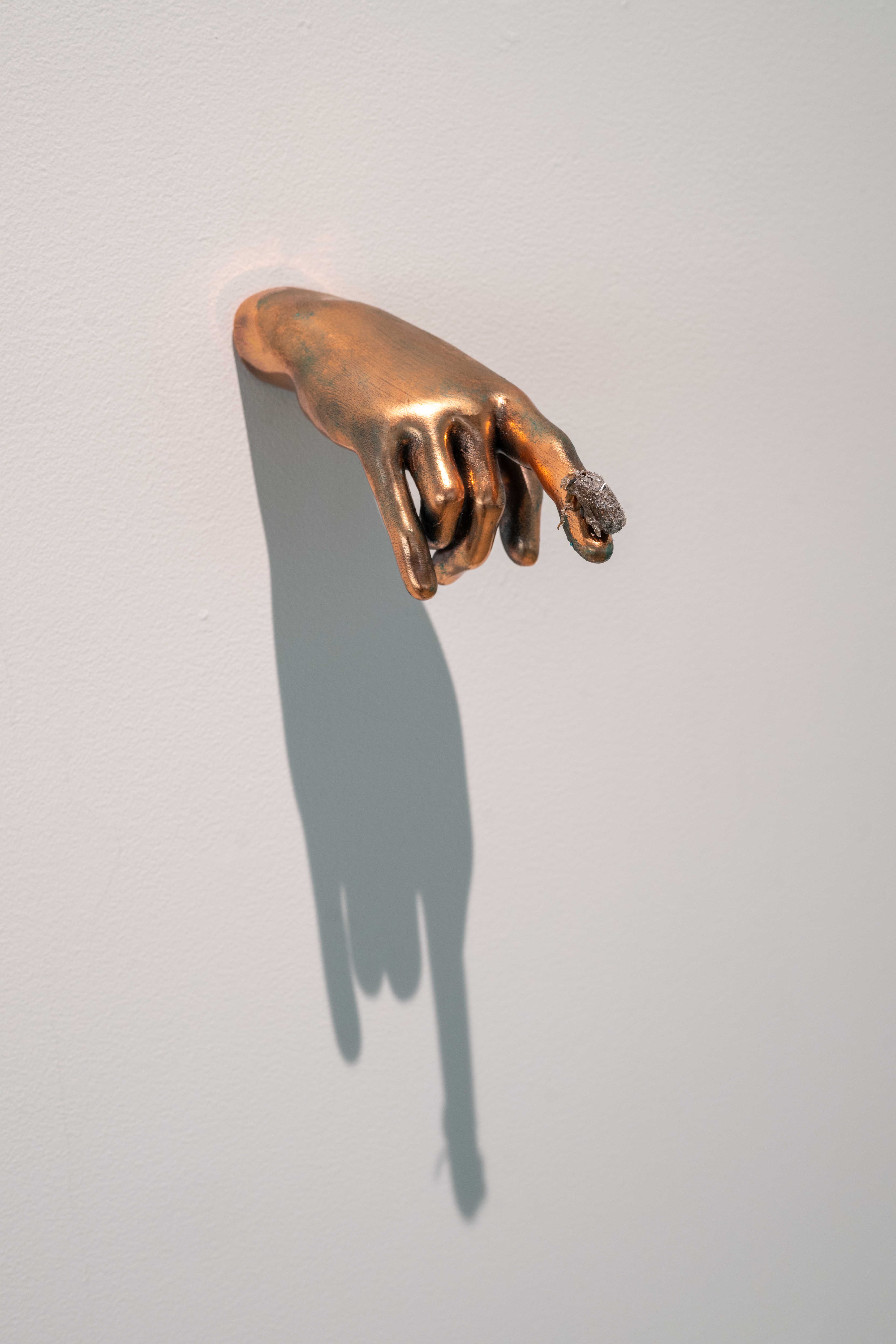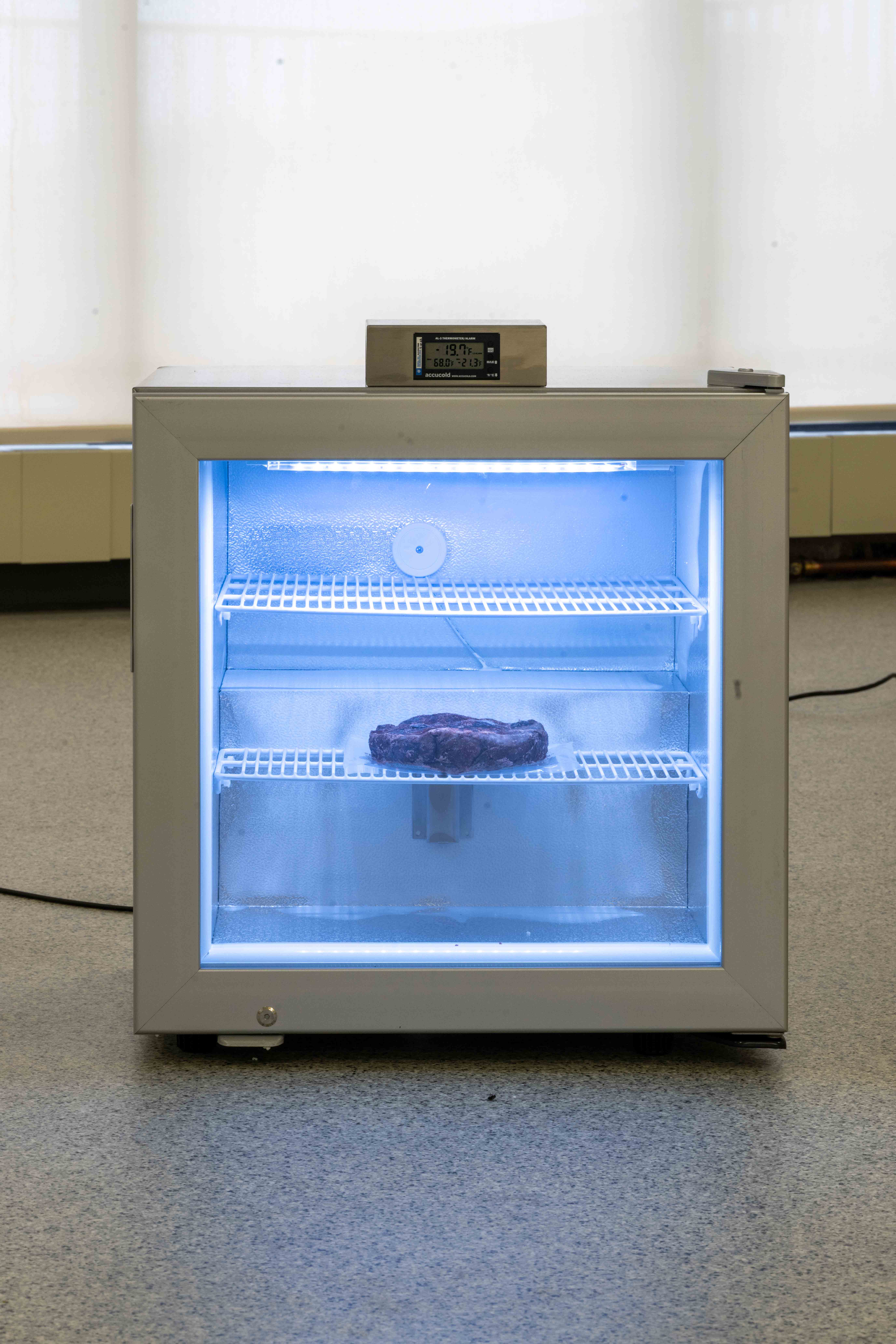 Image Index: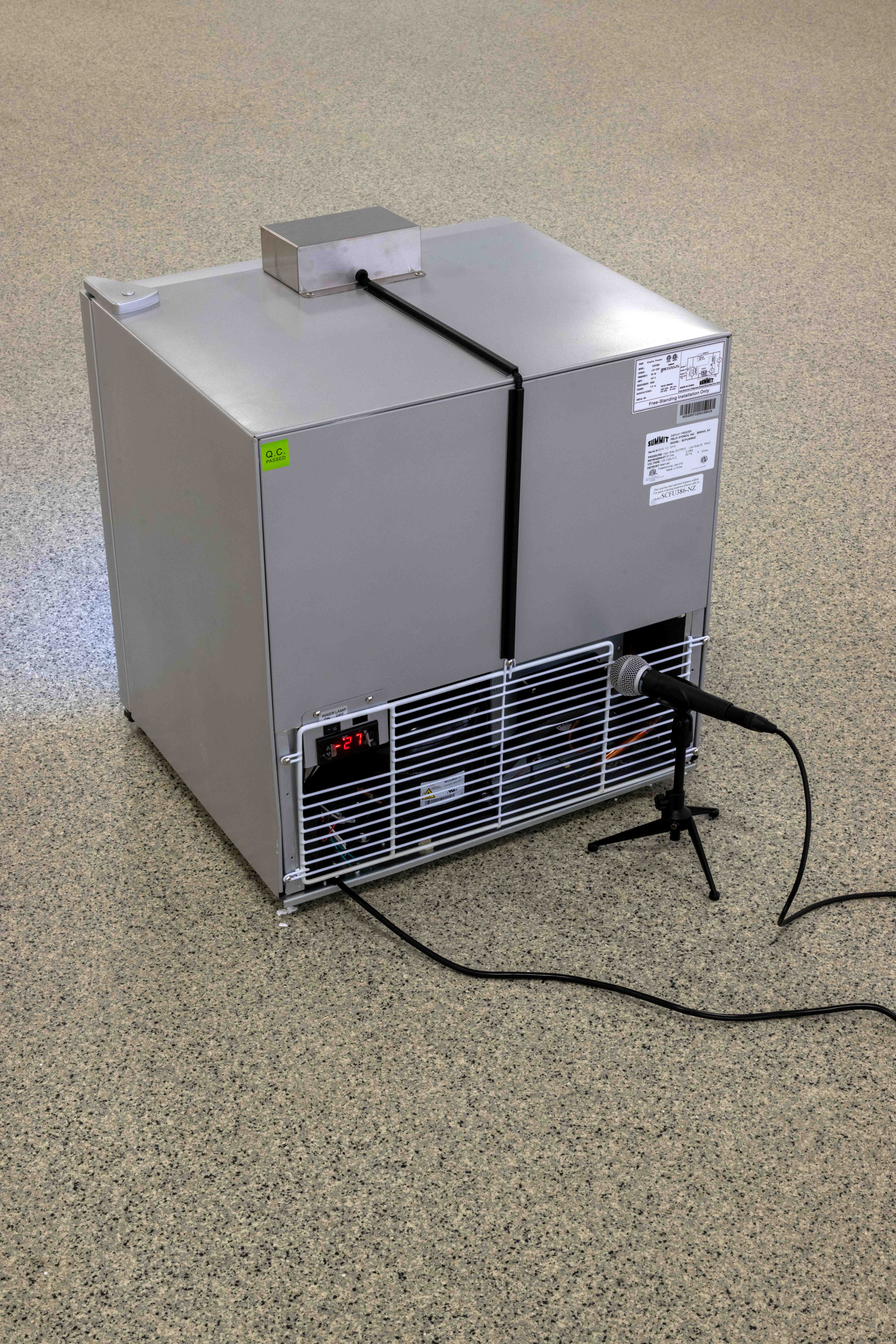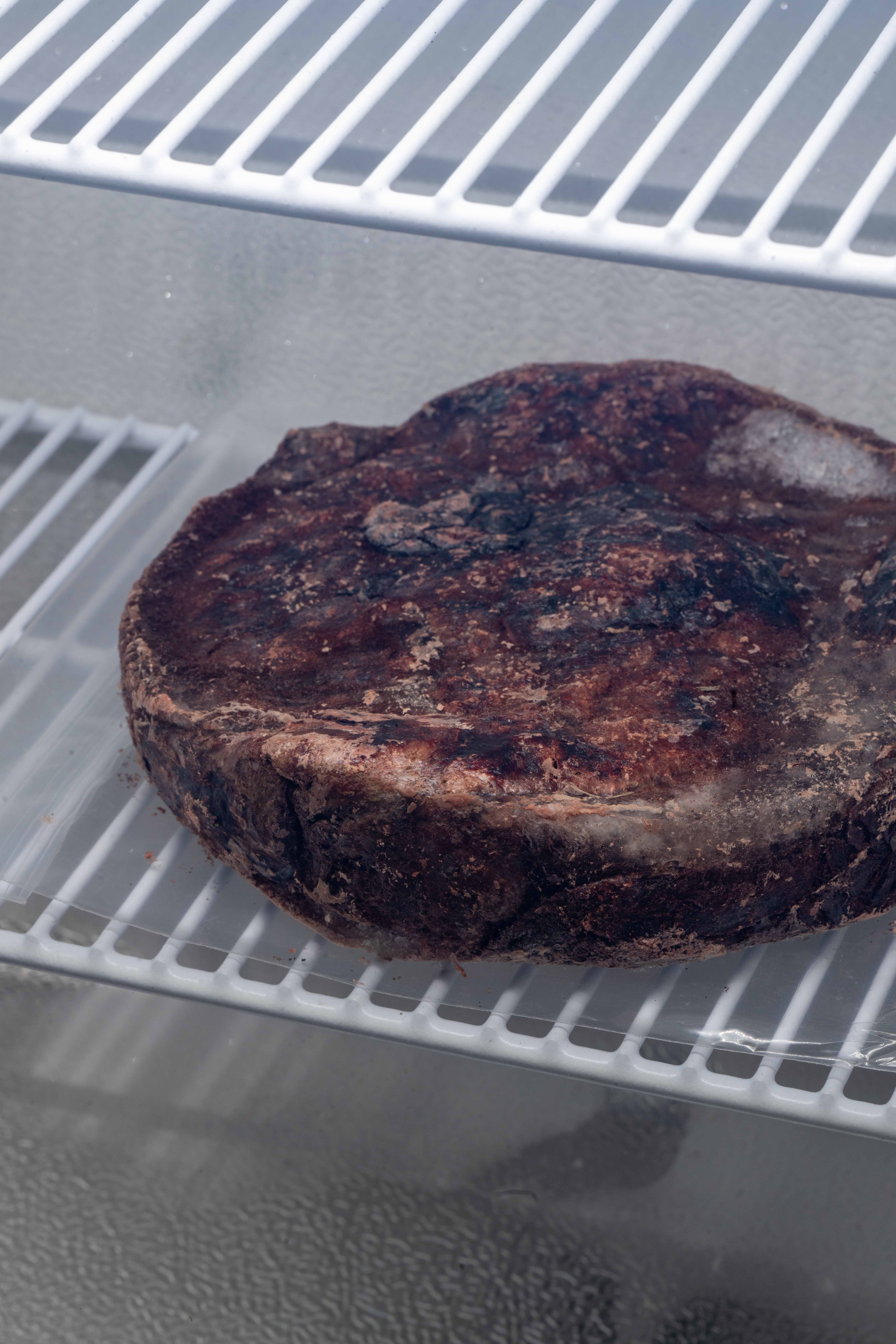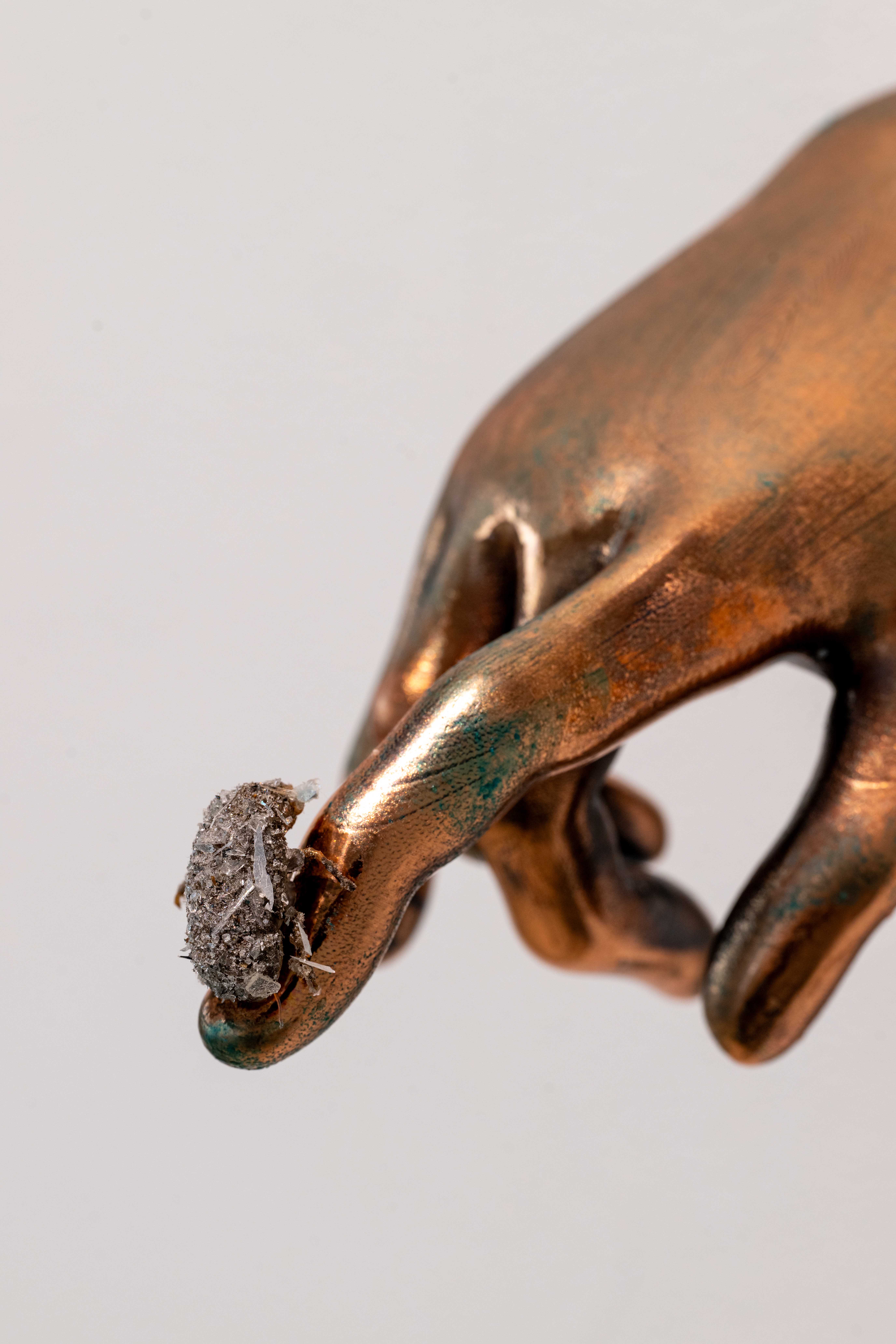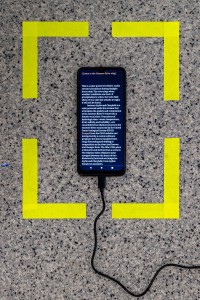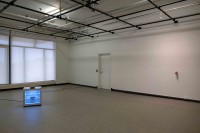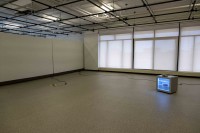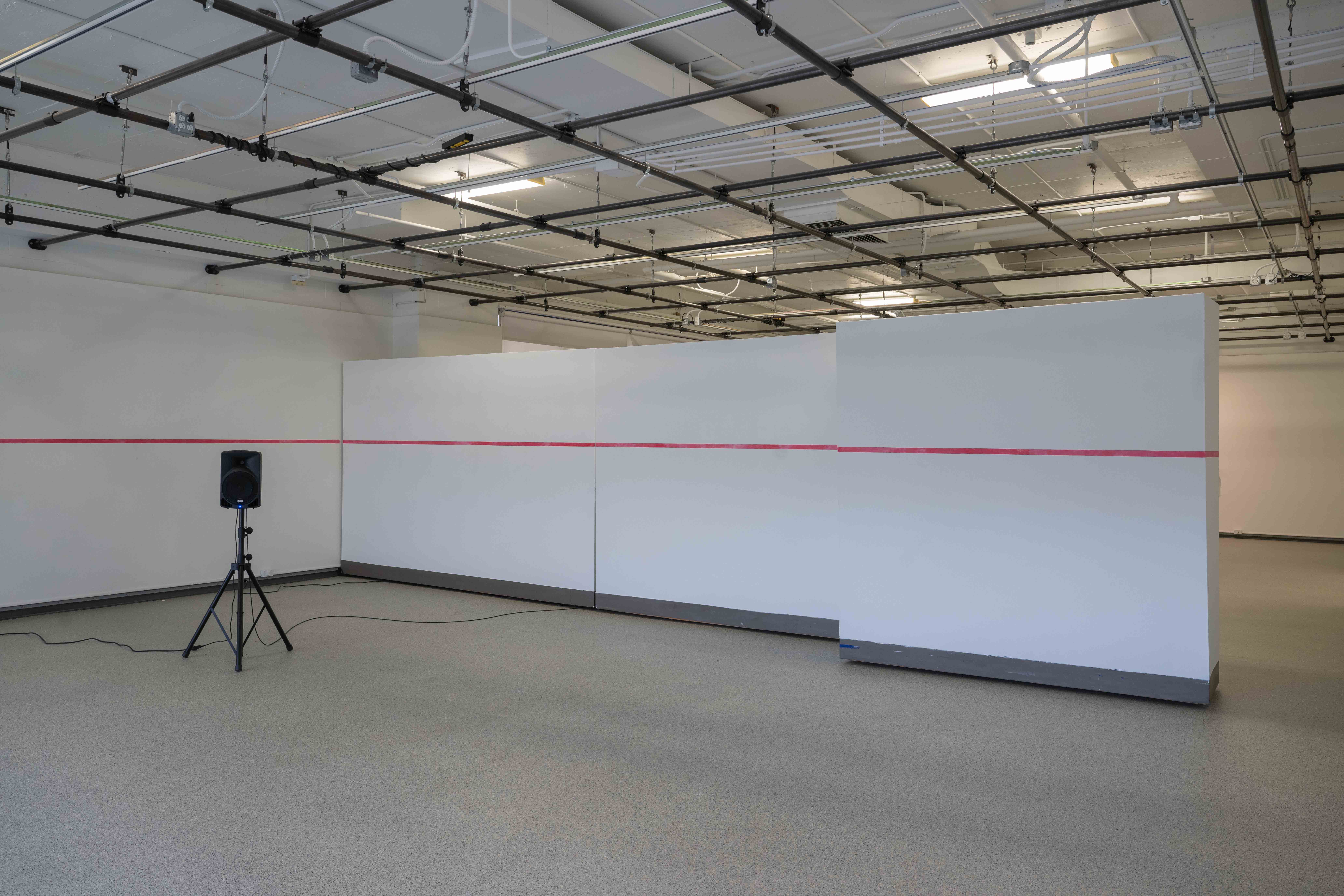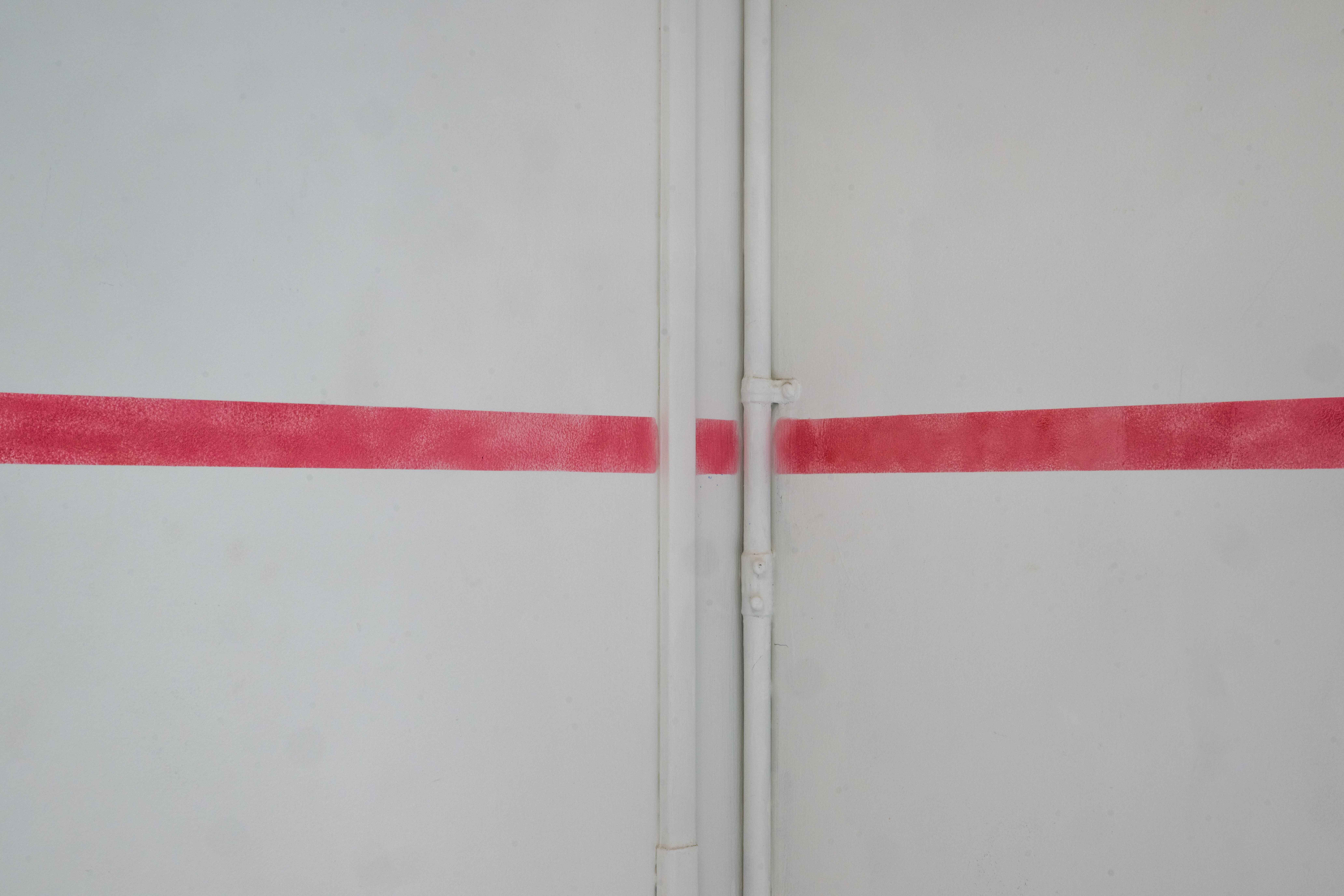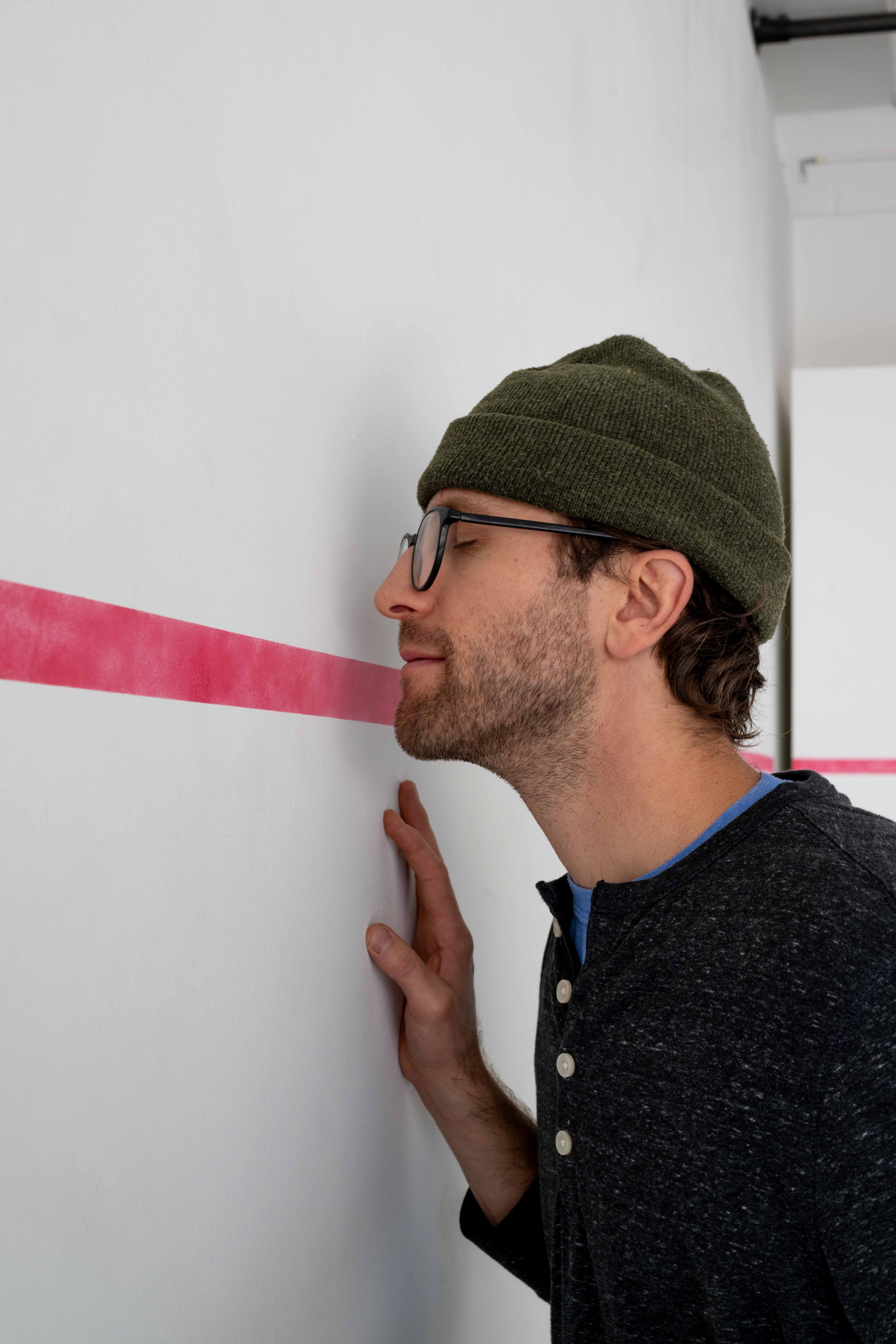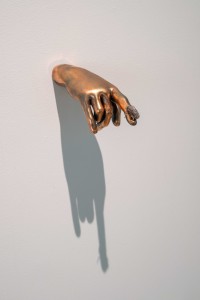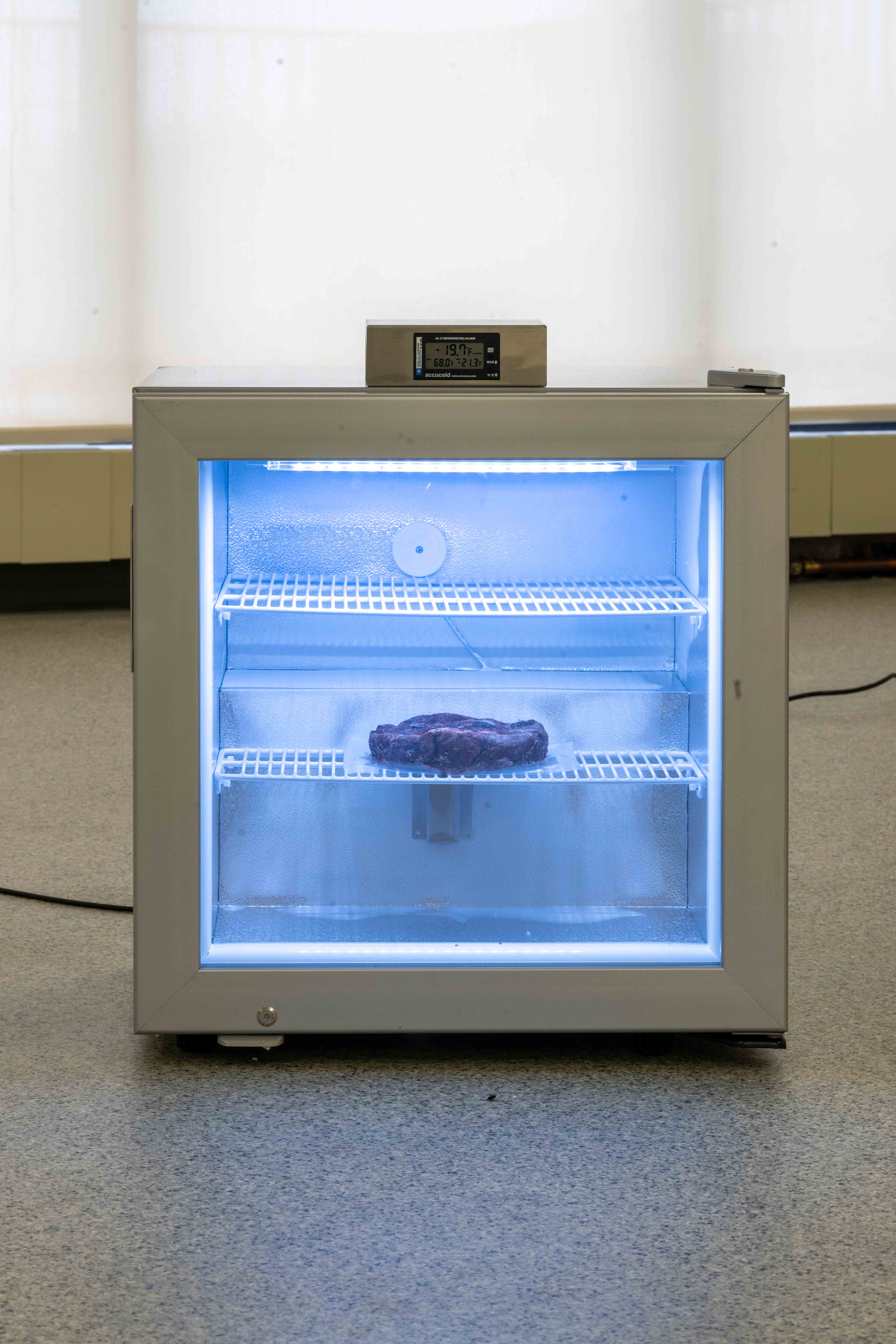 floodgate
Bevier Gallery at the Rochester Institute of Technology College of Art and Design, October 19-November 18, 2023

A cell phone resting on the gallery floor broadcasts the real-time translation of water quality data from the Genesee River into a female choir, interpreting the weather of the river as an ever changing and continuous vocalization. Some vocalizations form words that compose the ancient Greek ritual shout the ololyga, a vocal performance particular to females and practiced in times of extreme pain or ecstasy such as child birth, catastrophe, war.

A two inch wide line painted with lipstick belonging to the artist's suicided mother - L'oreal Colour Riche in Penelope's Red #320 - marks the continuity of all three walls and windows of the gallery.

A glass door freezer contains the artist's placenta from her first born daughter. A microphone amplifies the sound of the freezer's compressor and plays continuously through a speaker in an adjacent room. On one wall of this room, a cast hand of the muse Calliope modeled after an ancient Greek sculpture in her likeness emerges from a wall. A cicada covered in the dust of crushed LCD screens is perched on her index finger.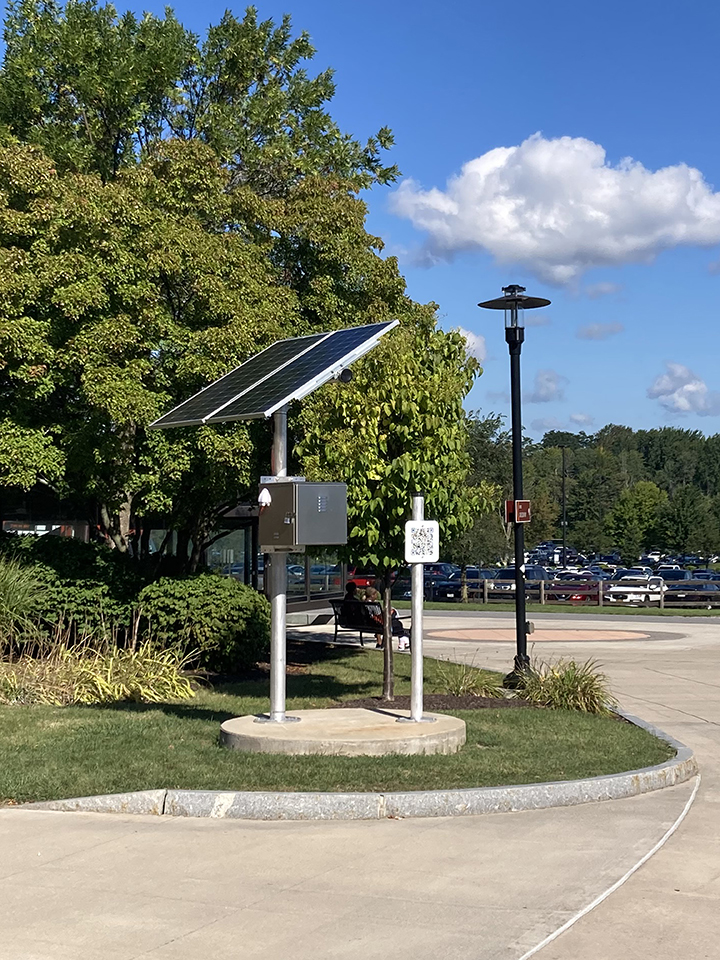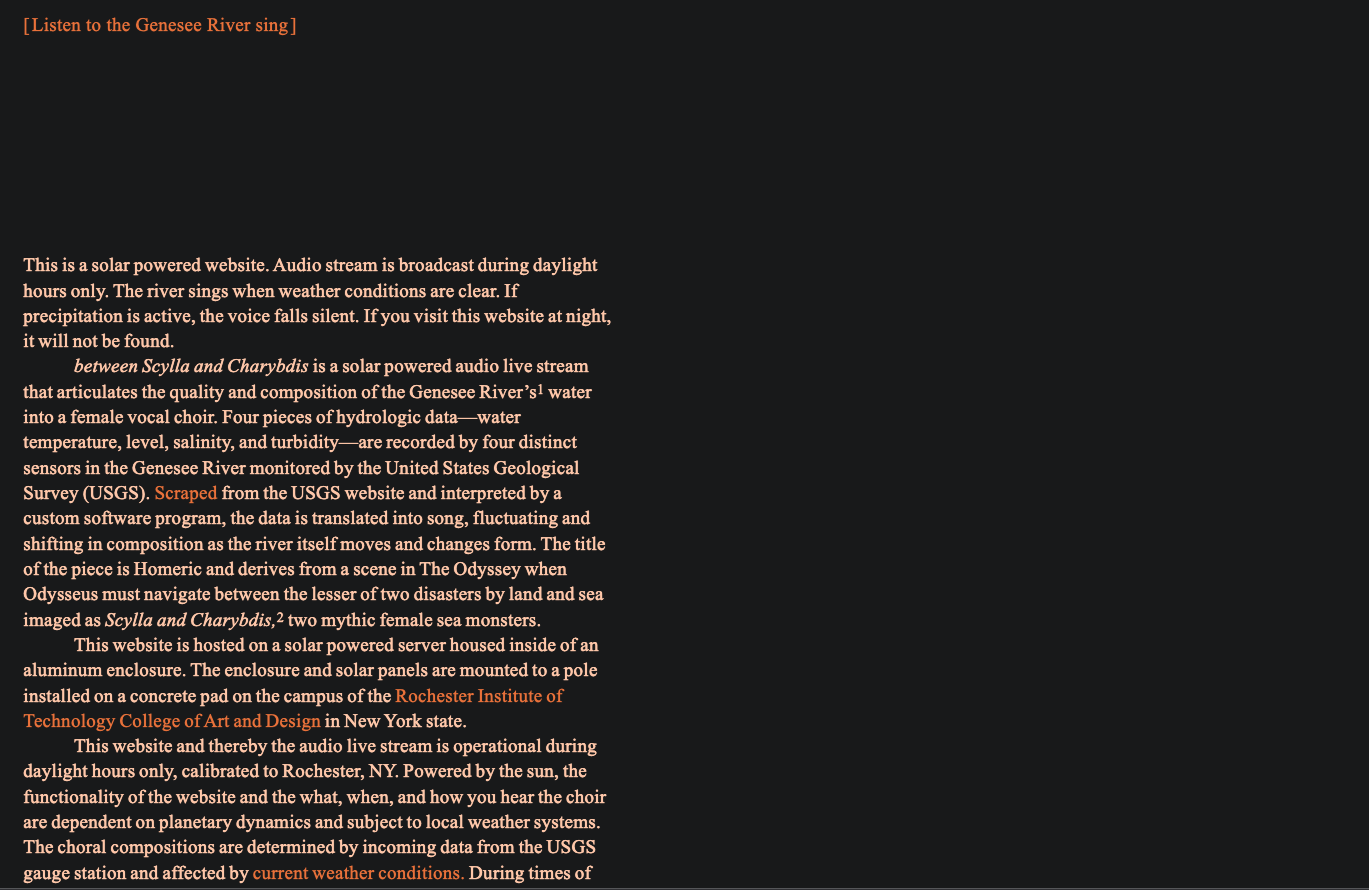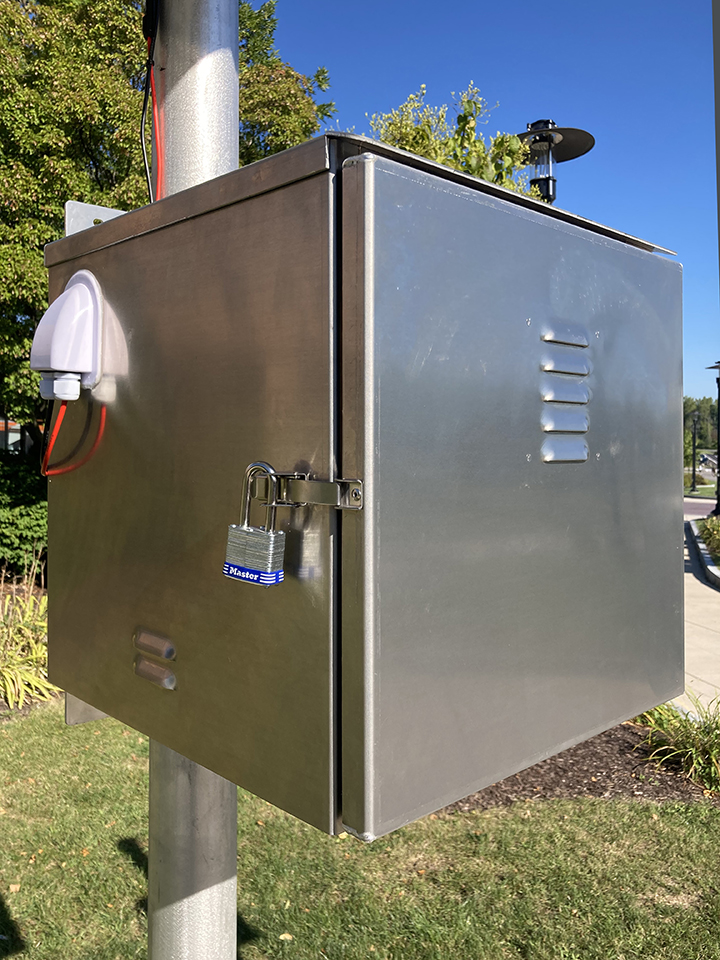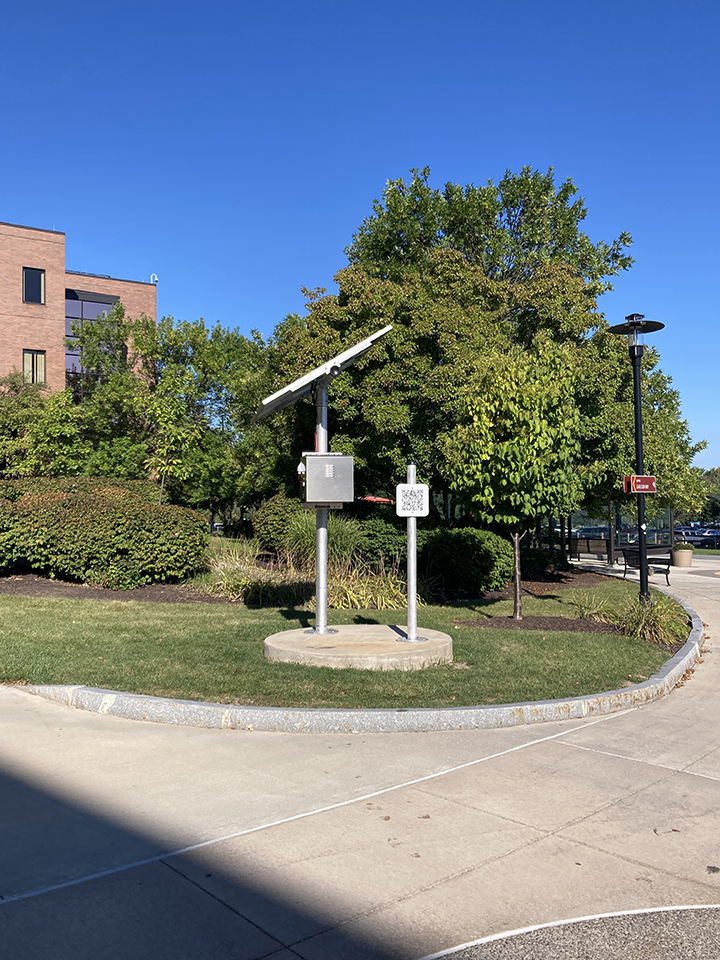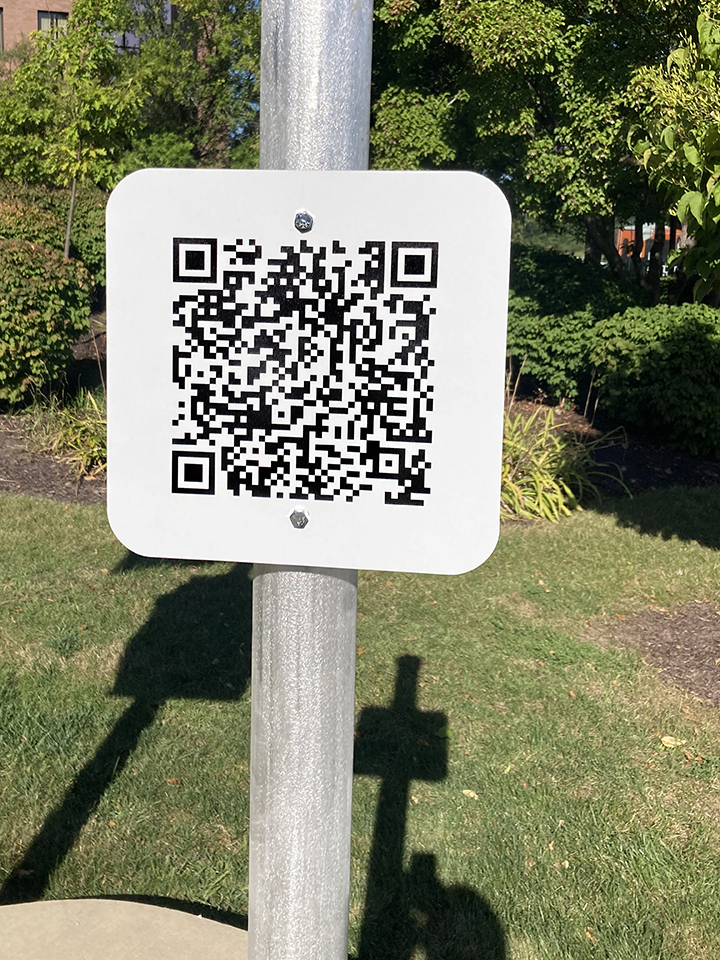 Image Index: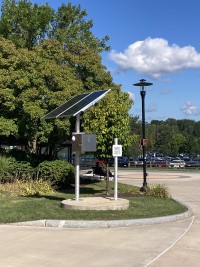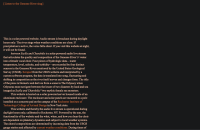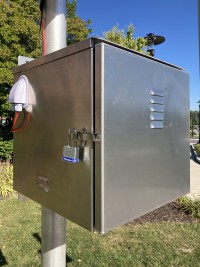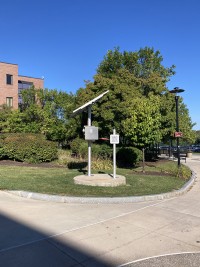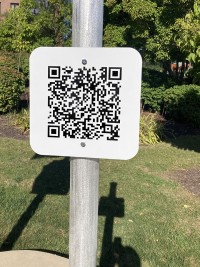 between Scylla and Charybdis
is a solar powered audio live stream that articulates the quality and composition of the Genesee River's water into a female vocal choir. Four pieces of hydrologic data—water temperature, level, salinity, and turbidity—are recorded by four distinct sensors in the Genesee River monitored by the United States Geological Survey (USGS). Scraped from the USGS website and interpreted by a custom software program, the data is translated into song, fluctuating and shifting in composition as the river itself moves and changes form. The title of the piece is Homeric and derives from a scene in The Odyssey when Odysseus must navigate between the lesser of two disasters by land and sea imaged as Scylla and Charybdis, two mythic female sea monsters. For more info and to listen live visit
https://betweenscyllaandcharybdis.pohanamandaturner.com/
The pysical sculpture is located on the campus of the Rochester Institute of Technology College of Art and Design, in situ through 2025.
between Scylla and Charybdis
is supported through partnership with
Wave Farm Radio
, and a NYSCA Media Arts Assistance Fund 2023 grant.